"The legacies of Helen Balfour Morrison and Sybil Shearer present a unique approach to the arts, and MSF programs are intended to bring these underreported legacies to the surface as inspiration and enrichment."
Carol Doty, MSF Chair, 2006-2020
Programs help "share the legacy" of Helen Balfour Morrison and Sybil Shearer by presenting stories and images of their artistry and accomplishments, encouraging research, and offering inspiration and support for new creativity. Programs include: archival research, public programs and performances, residencies, grants and fellowships, and publications.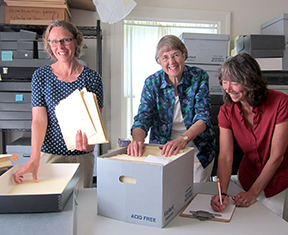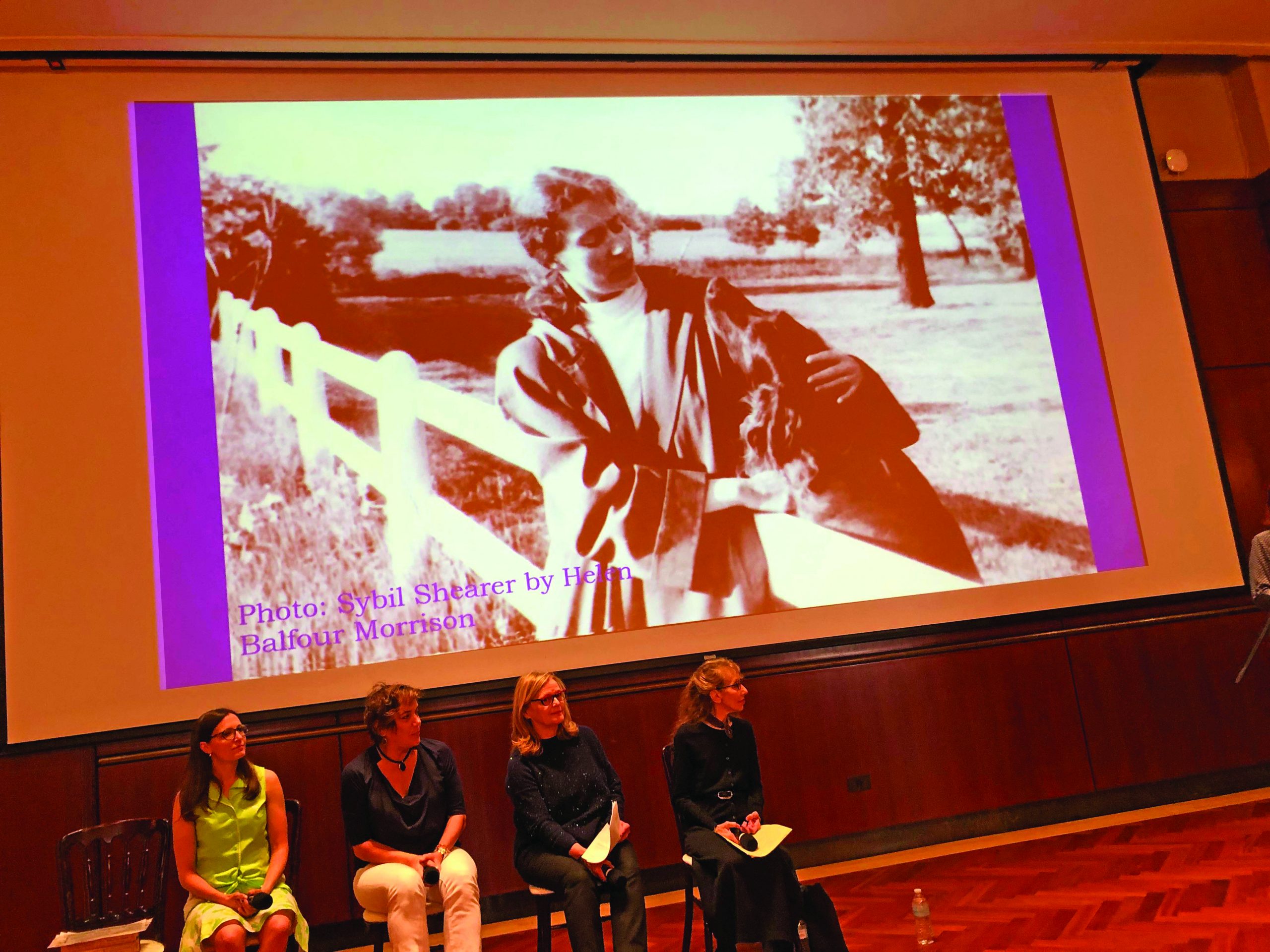 Public Programs
Public programs offer live opportunities for the public to attend lectures, film showings, performances, and exhibits that reveal the work of these two artists. Venues have ranged from intimate settings such as the Winnetka Community House and the Arts Club of Chicago to occasional larger Chicago stages including the University of Chicago Logan Center and the Auditorium Theatre.
EVENTS vary as opportunities arise. Notable examples include "The Dances of Sybil Shearer on Film" at the Spertus Institute in 2006; "Sybil Shearer, the Legendary Life of an Elusive Dancer," an original staged reading by four actors in celebration of the Sybil Shearer Centennial, at Roosevelt University in 2012; "A Conversation with John Neumeier," director of the Hamburg Ballet and protégé of Sybil Shearer, at the Arts Club of Chicago in 2013; and "Preservation, Tradition, and Innovation from Sybil Shearer through the Present," a panel discussion with films at the Newberry Library in 2019.
DANCE PERFORMANCES are important in the interest of keeping Sybil Shearer's dance legacy alive, and the Foundation has allowed select contemporary dancers to re-stage or interpret some of Sybil's solos and Company dances.
Notable examples include: Hedwig Dances re-creation of Shearer Company dances "The Reflection in the Puddle Is Mine" and "Time Longs for Eternity" as part of a Summer Soiree at the Winnetka Community House, 2012; Thodos Dance Chicago re-creation/adaptations of three Shearer dances at Chicago's Auditorium Theatre in 2014; Kristina Isabelle Dance Company re-creation of "Judgment Seeks Its Own Level" at Links Halll, Chicago, 2016; and Ella Rosewood re-creation of Sybil's solo, "Eighth Dance," at the 92d Street Y in New York City, 2018.
EXHIBITIONS are rare opportunities. Examples include "Photographing Freetowns: African-America Kentucky through the Lens of Helen Balfour Morrison 1935-1946" at the Newberry Library in 2017; and Sybil Shearer artifacts in "The Legacy of Chicago Dance" at the Newberry in 2019.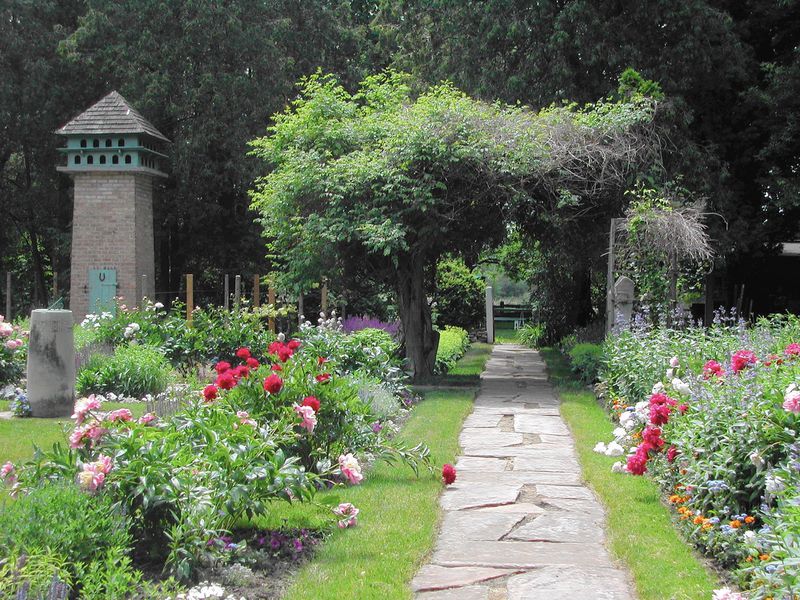 Residencies at Ragdale
Founded in 1976 on the former country estate of architect Howard Van Doren Shaw (1869-1926) in Lake Forest, Illinois, the Ragdale Foundation is a nonprofit artists' community that provides a peaceful place to work for artists of all kinds from around the world.
Sybil Shearer intended to offer residencies for contemplation and creation at her original Northbrook studio, but changes to the surrounding area have made this dream impossible. Now Ragdale has become the site for an exciting new SYBIL SHEARER STUDIO AT RAGDALE, funded through a gift from the Morrison-Shearer Foundation and expected to open in 2021. The new studio will greatly enhance dance creation opportunities while perpetuating a living legacy of Sybil Shearer and Helen Balfour Morrison.
The SYBIL SHEARER FELLOWSHIP AT RAGDALE began in 2016 and is given annually by the Morrison-Shearer Foundation.
Grants + Gifts-in-Kind
MSF has awarded modest annual GRANTS beginning in 1990. During Sybil Shearer's lifetime, recipients were proposed by her and approved by the Trustees.
Funding is focused on those artists and arts organizations whose work is congruent with the artistic discipline and creative individuality embodied in Shearer's and Morrison's own work. When the Trustees' attention is called to artists and arts organizations that demonstrate those ideals, an invitation to submit a grant proposal may be offered. Grants are given only to or through 501(c)3 organizations. The Morrison-Shearer Foundation does not accept unsolicited proposals. MSF Grant History.
FELLOWSHIPS are a special type of grant, usually given to an institution to fund a dance residency or a scholar performing research on a topic relative to Morrison or Shearer.  Fellowships include the Sybil Shearer Fellowship at Ragdale and scholarly research fellowships at The Newberry Library.
The Foundation recently announced a $1.5 million grant to the RAGDALE FOUNDATION for the construction  of the $2 million new dance and music building, home to the new Sybil Shearer Studio at Ragdale. For more information click here.
MSF has also occasionally given GIFTS-IN-KIND to appropriate institutions. These have included original and remastered Morrison portraits, equipment, and archival materials not related to MSF.
Publications
Publications are a modest part of the Foundation's programs. They include Sybil Shearer's autobiography as well as newsletters, event-related announcements and programs, holiday cards, and ephemeral descriptive brochures.
The Autobiography of Sybil Shearer, in Three Volumes
Without Wings the Way Is Steep, The Autobiography of Sybil Shearer:
Volume I, Within This Thicket (2006) covers her life from 1905 to 1941.
Click here to purchase
Volume II, The Midwest Inheritance (2012) covers 1942 to 1984.
Click here to purchase
Volume III, The Reality Beyond Realism (2020) covers 1985 to 2005.
A Hidden Collection, Helen Balfour Morrison: Masterful Modern describes a portrait collection of more than 200 Great Americans of the 1930s and 1940s, including academics, actors, architects, critics, dancers, educators, journalists, musicians, painters and sculptors, scientists, social activists, and leaders in medicine, law, government, and business. Available in print and electronically. Download the PDF.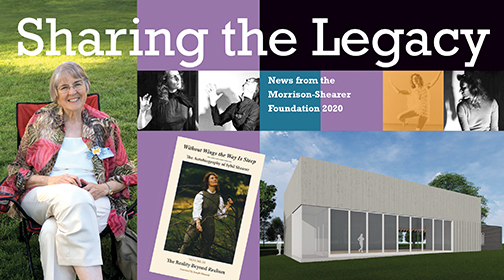 Sharing the Legacy is an annual fall newsletter reporting on the past year's activities and upcoming events.