"Sybil Shearer is first, last and always, a soloist."
Claudia Cassidy, Chicago Tribune magazine section, Nov 14, 1971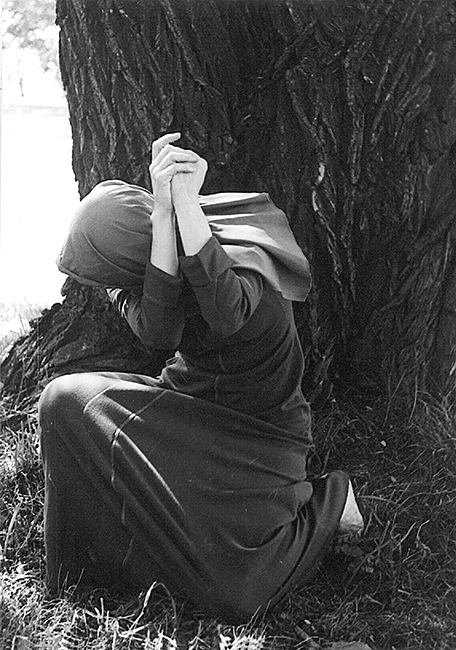 But Sybil had something entirely different in mind for herself. In March 1938, after returning from the tour, she requested a six-month leave of absence from Humphrey-Weidman in order to work on her technique.
In explaining it to Louise Martin she wrote, "I have made up my mind to be a hermitess in art and shall do it even if I'm disowned."
She wrote to Doris, asking that the leave include Bennington: "The question of technique I don't think I made quite clear. It is not that I might accomplish spectacular feats that I wish to work twice a day, but rather that I might gain control over my whole body to the point of being capable of any quality of movement which I would wish to use in the expression of an idea. It is control of these qualities of styles or emotional nuances that I think is lacking in most techniques, and it will take a long period of concentrated effort to accomplish this knowledge of my own body. Besides, as I said, I wish to study music and painting and sculpture as well as read philosophy and to correlate all the knowledge and feelings I have already on these subjects."
But Doris insisted she needed her at Bennington, and she went. In September she wrote to Agnes, "So after a great struggle and several attempts to get a leave of absence . . . I have pooled all my resources and energies into a six-month period of hermitism and study."
In October she gave a lecture-demonstration in Virginia, reporting afterward to John Martin: ". . . although I have composed all my own studies, still they are only studies and not dances, and my greatest concern is to make dances that will be as intelligible to my audience as my studies. The one thing I have learned . . . is my ability to love my audience, to want to give them the best I have at the moment." Her first review appeared in the Richmond Times-Dispatch, by George Harris, its final lines reading: "Symbols of dramatic thought were brought in to transform these movements into something more living, and then all this was brought to bear on the delineation of character. It was an unusual building up of an artistic thought. All but one number was without music, and was so forceful in beauty and individuality that each thing was a complete artistic entity and was of absorbing esthetic interest."
But in November Sybil's leave was cut short when the Theatre Dance Company could not do without her. On the bright side, their January 1939 program included her first solo, the Battle of Carnival and Lent, and she began to work with Agnes de Mille. In February she was again on tour with Humphrey-Weidman, but when the tour ended in San Francisco in May, she resigned from the group. Sybil and Doris saw dance differently. Returning to New York, she spent two weeks working with Agnes before going home for the summer. He parents had just moved from Newark to Lyons, New York, and her father had made a studio for her upstairs in the barn. There she continued working on her technique and her solos, and in July spent some weeks in the Berkshires, studying music with cellist/composer YURI BILSTIN.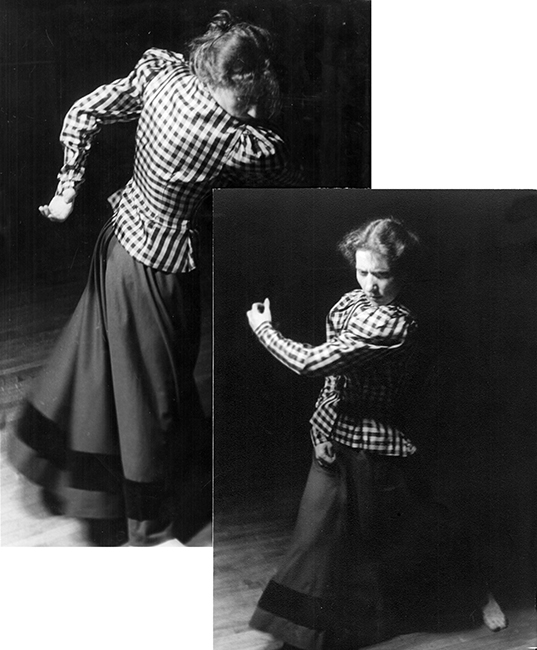 Then back to New York, where she continued developing her solos, took a job teaching at the Academy of Allied Arts, studied ballet, and worked and toured with Agnes. At the end of the de Mille tour, she auditioned in Chicago for a job a year away and got it: twenty weeks on tour in the Midwest and East, presenting high school assembly programs. But first, she was ready to try her dances on the public and decided on Newark, New York, where she had gone to high school. There, on Friday night, September 6, 1940, she presented her first dances at the Capitol Theater. Reviews appeared on Thursday, September 12 in two Newark newspapers and in the Lyons Republican & Clyde Times, which listed and described the ten dances.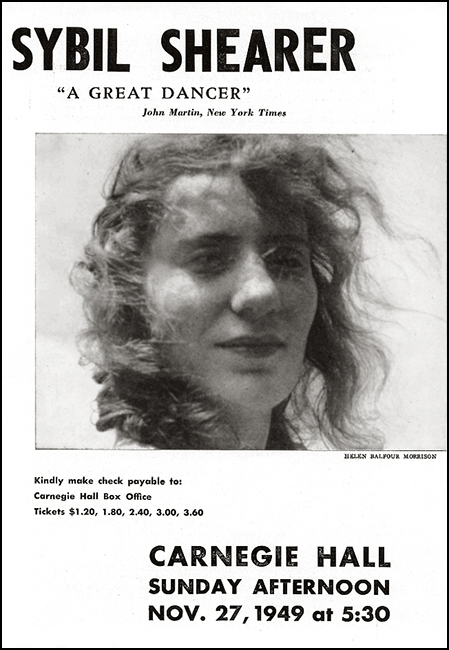 A year later, on October 21, Sybil made her solo debut at the CARNEGIE HALL CHAMBER MUSIC HALL and received outstanding reviews from both John Martin in the New York Times and Walter Terry in the New York Herald Tribune. Sybil's solo career was launched with class, and she performed more solo concerts, peaking with two performances on the main floor of Carnegie Hall in 1949.
But her solo-only programs ended when she started her Company in 1958. She soon learned that her audiences expected her to perform solos too. Thereafter her solos were interspersed with Sybil Shearer Company dances until their final performance at Arie Crown Theater in 1972.
In thinking about her differences with Doris Humphrey, Sybil wrote: "I was interested in pursuing the technique of expression, because I thought of myself as an instrument of the spirit. Since this was an individual matter, it is probably the reason I was essentially a soloist."