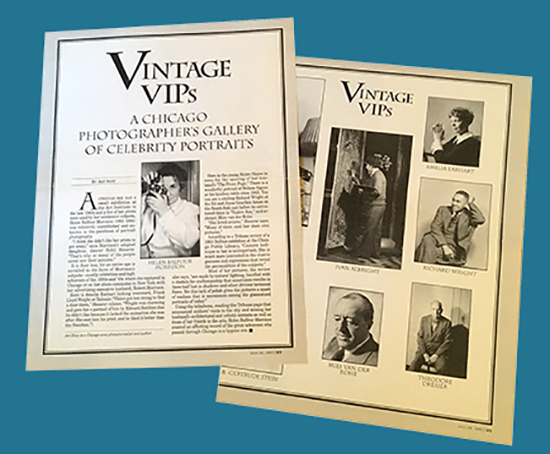 Chicago Tribune Magazine, July 28 1991
There is almost no published information about Helen Balfour Morrison. David Daiche's short essay, "The Art of Helen Balfour Morrison" (Washington DC, April 1946), appeared in a four-page handout for the Toledo Museum of Art's exhibition in 1947 and is the most scholarly. Scattered short newspaper accounts relating to exhibitions of her work appear 1936 to1950.
After Sybil showed Helen's work to photograher Art Shay in 1991, he arranged a three-page spread titled "Vintage VIPs, A Chicago Photographer's Gallery of Celebrity Portraits" in the July 28 Chicago Tribune Magazine section. It included twelve portraits with a text by Shay, and it did revive considerable interest in Helen.
At about that same time Sybil drafted a 33-page typed manuscript, "A Portrait of the Photographer: Helen Balfour Morrison", as part of her attempt to publish a collection of forty Great Americans. It contains basic family history, Morrison anecdotes and childhood stories, and Sybil's own assessments.
The most extensive source of information about Helen is  Without Wings the Way Is Steep: the Autobiography of Sybil Shearer, Volume II, The Midwest Inheritance, published in 2012. Sybil writes about Helen throughout this volume, which also includes numerous letters written from Helen to Sybil during the summers of 1943-1950 when Sybil was at home with her parents in Lyons, New York.
Other sources of information include endorsements and inscriptions by notable subjects; information on Helen's portraits owned by other museums and collectors; and anecdotes in oral histories relating to Sybil Shearer.