"Helen Morrison's lighting unfortunately is going to die because I don't think it was ever filmed in a way that would make you understand what she was able to do... Those of us who saw it remember it forever."
Margo Viscusi, interview, May 28, 2014 NYC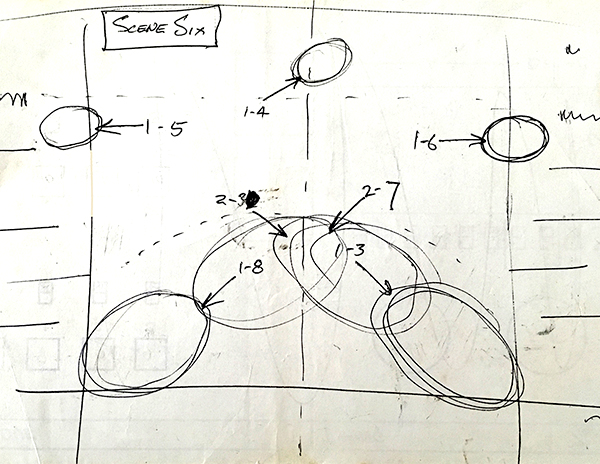 Lighting
"Oh, my dear, I know nothing about lighting," was Helen Morrison's response when Sybil asked her to do her lighting. But she gave in, and in time became a master lighting designer. At Bradford Junior College in Massachusetts in 1948, a student stage-crew member whom Helen selected as her assistant, told her afterwards, "I've learned more in this one night than I have in my whole two years at Bradford!"
In Dance Observer (1950), Richard Lippold wrote, "It must be added that the lighting of Helen Morrison contributes half the miracle . . . here all qualities of atmosphere seem possible," and in Dance News (1953), Ann Barzel described Helen's lighting as "something beyond 'lighting effects.' It is three-dimensional painting with light, a beautiful treatment of the space for dancing." It was not unusual for Helen's lighting to be cited as "half the show."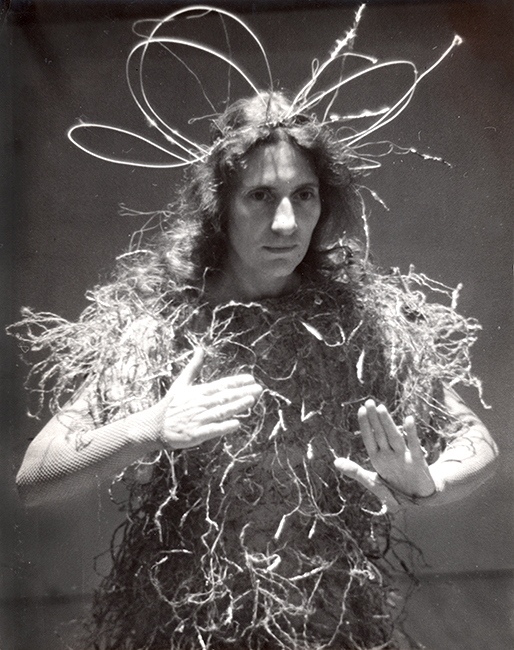 Costumes
"My talent was to become the other – whatever that other might be, human or ethereal. So costuming was always difficult because it was materialistic, solid fabric, whereas movement was fluid and changing, as were the beings I was serving. On the other hand, costumes were important as signals of my inner intentions," writes Sybil in her autobiography.
For her early solos as well as some of her later ones, Sybil designed and made her own costumes. Costume designs for a Brooklyn Academy performance (1955) are credited to LEOLA WOOD and Sybil Shearer. Later, when she began working with groups and the Sybil Shearer Company, she needed more help. Costumes for Mysterium Tremendum (1956) are credited to THEO LEFFMAN, and some of the costumes for Within This Thicket (1959) are credited to TITA.
Costumes for Fables and Proverbs (1961) are credited to Sybil, TOBY NICHOLSON (dancer), and Tita. The costumer who appears most often is RITA STEIN, who is mentioned in programs staged in 1959, 1965, 1967, 1969, and 1972. Helen Morrison is listed in 1968, 1969, and 1972, and HOMER LATHROP (dancer) is listed in 1968 and 1969. Others include DOROTHY PELZER (1969), MASAO (dancer; 1969), and artist RUTH ESSERMAN (1969 and 1972).
Music and Sound
Sybil's early solo performances were danced to piano, and her accompanists between 1944 and 1955 were JEANNE PANO and MARION HALL. Of them, Sybil said, "Jeanne's playing was dynamic and fiery, and Marion's was penetrating and full of subtle color; both had won the coveted prize from the Chicago Artists Alliance for Young Musicians." In New York, MARIAN MACHNO and DAVID TUDOR accompanied her on occasion.
At the end of 1956 she started using recorded music with her first group dances. When she presented Within This Thicket in 1959, the music was recorded and played in a pioneer experiment of stereophonic sound. Critic John Martin described it as "a very up-to-the-minute acoustical innovation designed by James Cunningham on principles of 'non-directional sound.'" In the Chicago Sun Times, Sarah Boyden reported that "James Cunningham, of Robert Oakes Jordan and Associates, acoustical authorities, set up an experimental product of 'reflected sound' at various levels which gave the Bartok music remarkable sonority."
Jim was not only Sybil's technical genius as a sound engineer; he also introduced her to jazz, electronic music, and rock, all of which she used in her choreography.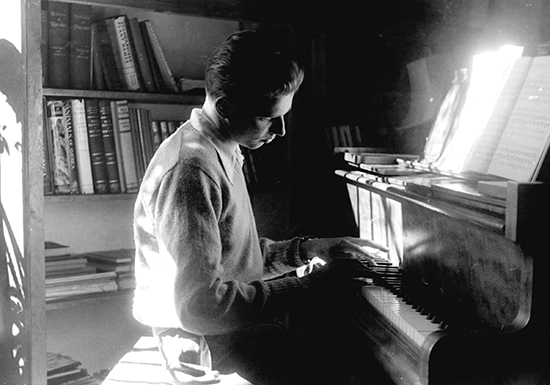 James Cunningham
1922 - 2014
Jim played a critical role in Sybil's production team as sound engineer for the Sybil Shearer Company. Friend and confidant, he met Sybil in 1946, when she gave a benefit performance in Northbrook at the invitation of Jim's mother. Every summer until 1951 he accompanied Sybil and her dancers to The Clearing, Jens Jensen's school in Wisconsin. His brush with Jensen led to his lifelong interest in conservation.
Trained as a musician, Jim was research director for Robert Oakes Jordan & Associates, an acoustical laboratory in Highland Park, Illinois, which specialized in the development of stereophonic and later quadraphonic sound. Part of his job was to capture everyday sounds – from ping pong to trains, airplanes, fireworks, and more – including the last steam engine to travel through the Midwest and a United Airlines DC-6 as it started up each of its six engines. These sounds were produced on 33 1/3 records for commercial use. The firm also developed the stereophonic twin magnetic sound track, the first in the industry.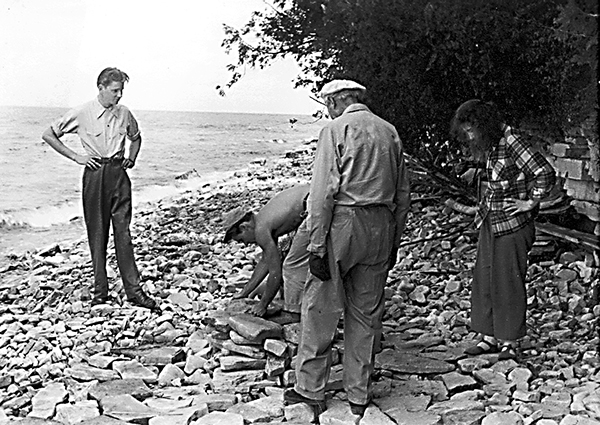 In 1948, Jim introduced Sybil to jazz. She writes, "suddenly jazz entered my consciousness, not just the rhythm, but fascinating variations, a kind of drive and power that took over the whole instrument or group of instruments, and underneath there was this 'beat.' So I started to listen." She created a number of dances to jazz, most notably A Salute to Old Friends, a tribute to Doris Humphrey, Walter Terry, Agnes de Mille, and John Martin, which was filmed but never performed publicly.
Jim also introduced Sybil to electronic music. Public awareness of this music was first raised by the 1958 Brussels World's Fair, where Edgard Varèse's Poéme électronique was heard by two million visitors, bringing music and invention together. Jim gave Sybil tape recordings from the Fair, "and it really sparked my creativity."
In her 1960's concert, Fables and Proverbs, she began using avant-garde music by electronic composers. She used Jim Cunningham's composition for Time Longs for Eternity, considered her finest company dance, and music by Dutch composer Henk Badings for the company dance, The Reflection in the Puddle Is Mine. For her solos she chose Bruno Maderno for Without Wings the Way Is Steep and Vladimir Ussachevsky for In the Shell Is the Sound of the Sea, a dance performed only once but never forgotten.
In 1969 Sybil took another leap by using music from the world's first progressive rock band (Iron Butterfly's 1968 hit, In-A-Gadda-Da-Vida) for her company piece, The Reflection in the Puddle is Mine.
In 1991, some twenty years after the Sybil Shearer Company ended, Sybil asked Jim to become the trustee of her Trust and to join with seven others as a founding member of the Morrison-Shearer Foundation. Jim served as treasurer and remained a strong guiding hand, stewarding the legacy of his great friend even after her death in 2005. On June 29, 2014, James Cunningham passed away at the age of 92.