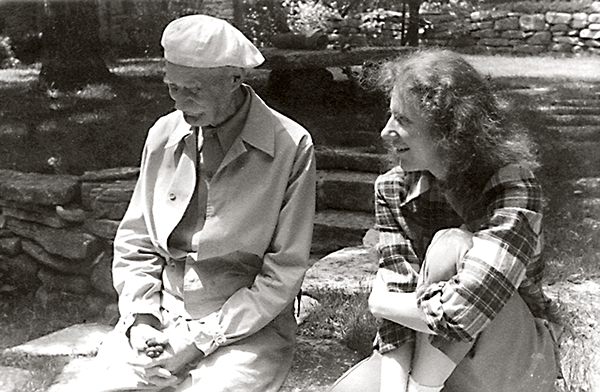 In the fall of 1943, Sybil's father died unexpectedly in a tragic accident. When Sybil returned to Chicago, Helen took her to Door County, Wisconsin, to meet JENS JENSEN at his school, The Clearing. It was an auspicious meeting of two nature-mystics, and led to Sybil's taking her student–dancers there every summer until 1951, accompanied by musician JIM CUNNINGHAM, who became her devoted audio technician for the remainder of her career.
A surprise event occurred in 1945, when Dr. Sparling and his entire faculty left Central YMCA to start Roosevelt College, now Roosevelt University, which makes Sybil one of the founding faculty of this notable institution. Also memorable was a fund-raising event created by Sybil to benefit the new college — an outdoor performance with her students at the Morrison home – successful in every way, in spite of mosquitoes!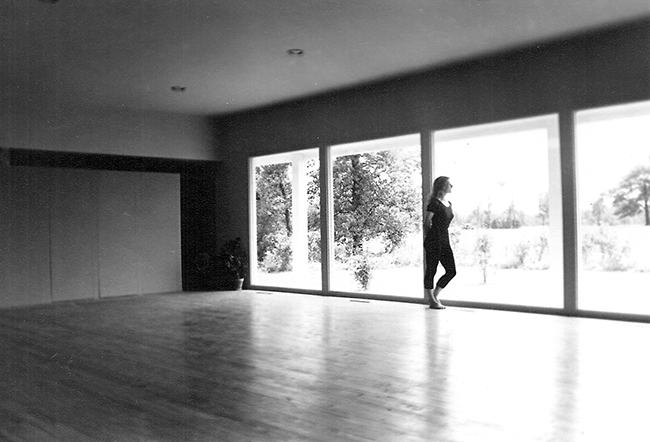 In 1950, Sybil's mother died, and with her inheritance Sybil bought a plot of land from the Morrisons on which to build a home. Helen designed the Studio-residence, and it was completed in the fall of 1951, with Sybil and her dancers involved in the construction.
Once settled into her new place, Sybil made some important changes. She decided to leave Roosevelt and to turn the Sybil Shearer School of Dance over to her instructors. Trips to The Clearing ceased, as Jensen had died earlier that year.
Living in Northbrook was a far cry from the "broken rhythm" she had felt in New York, and for a dancer, it was an isolated and unconventional life. Yet there in solitude she was able to create astonishing works of art, choreographing for groups of her students as well as making solos for herself.
In 1956 DAVID VAUGHAN asked Sybil for films to represent Modern Dance in the British Film Institute's National Film Theatre Festival of Dance. Sybil had no films at the time, so Helen began filming her in her studio, and sent a film to David.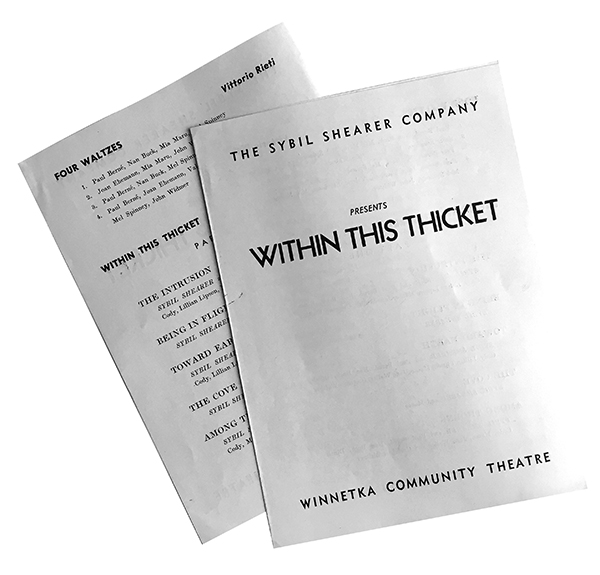 In 1957, Sybil expressed the wish for a theater of her own, and before long Helen managed to improve the Winnetka Community House auditorium with new rigging and flats. Sybil wrote, "I think she really enjoyed making it a place where I could not only perform, but also rehearse and create on stage in order to see choreography from an audience point of view." The following year Sybil's first group dance, Within This Thicket, was performed there, leading to formation of the Sybil Shearer Company.
In 1962 Sybil became Artist-in-Residence at National College of Education in Evanston (now National-Louis University), with full use of the Arnold Theater. In 1967 the College received federal funding for construction which included the theater, for which Helen designed the renovated stage and lighting. While it was closed for two seasons, Sybil and Helen spent winters in California working with JOHN MARTIN and ALMA HAWKINS at UCLA and visiting winemakers. When the Arnold reopened in 1969, critics and devotees began coming from both coasts to see Sybil's work.
The culminating performance for the company was to a nearly full house at the enormous Arie Crown Theater in Chicago's McCormick Place on January 16, 1972. Sometime after that, Sybil decided she would no longer perform. At sixty (though she would never tell her age) she certainly could still dance and choreograph, and everyone expected her to continue. But she later wrote, "I had intimations that it was time to finish my career – more would be less."
In 1973 Helen and Sybil returned to filmmaking. Helen's full-length film, A Sheaf of Dreams, premiered at the Arts Club of Chicago in 1976 and was shown around the country into the early 1980s. In 1982 the British Film Institute film was shown at the Arts Club. But things were changing for Helen and Sybil. Bob Morrison had died in June 1966, and Helen's health had deteriorated. Though she was vital mentally, Helen was in a wheelchair in her last years, and Sybil nursed her through her final illness until her death in November 1984.