Construction paused recently to celebrate work on the new Studio House of Dance and Music, home to what will be the new Sybil Shearer Studio on the Ragdale campus in Lake Forest. In December, Northbrook's Morrison-Shearer Foundation provided a $1.5 million grant to the Ragdale Foundation to support construction of a dance studio and composer's studio within the former estate of Howard Van Doren Shaw on the Ragdale campus. The future Sybil Shearer Studio is named for the modern midcentury dancer. Starting as a performer in New York, Sybil Shearer (1912-2005) then taught at Roosevelt University and started her own dance school. In 1951, with photographer and artistic collaborator Helen Balfour Morrison, Shearer built a studio-residence in Northbrook and founded the Sybil Shearer Company.
"It is fitting that the Northbrook-based Morrison-Shearer Foundation and Lake Forest-based Ragdale Foundation came together today, during Women's History Month, to celebrate the construction of the home to the new Sybil Shearer Studio. With this addition to the Ragdale campus, we honor modern dance pioneer Sybil Shearer and her longtime collaborator, photographer and filmmaker Helen Balfour Morrison," said Morrison-Shearer Foundation Board Chair Alida Szabo.
"Our $1.5 million grant for this new construction is a seminal moment in our history, helping to perpetuate the legacies of Sybil and Helen while cementing our relationship with Ragdale," Szabo said.
Joining the celebration was a group including Lake Forest Mayor George Pandaleon and Morrison-Shearer Foundation Board Treasurer Brian Schaefer, Vice Chair Shayne Bullen, Immediate Past Board Chair Carol Doty, Trustee Toby Nicholson and Secretary MarySue Wheeler.
The Morrison-Shearer (https://morrisonshearer.org/) grant, along with $400,000 from the Ragdale Foundation — a nonprofit organization benefiting an artists' community — will support construction of two, one-story attached buildings totaling 2,500 square feet. According to the Morrison-Shearer website, the project is intended to open this fall.
The Sybil Shearer Studio will feature a 30-foot-deep, 50-foot-wide clearspan space with a sprung dance floor and provisions for adjustable lighting and audiovisual equipment.
Both studios will offer private sleeping spaces and be fully accessible. Large windows will provide Ragdale resident artists the feeling of being immersed in nature, as Shearer was in her Northbrook studio.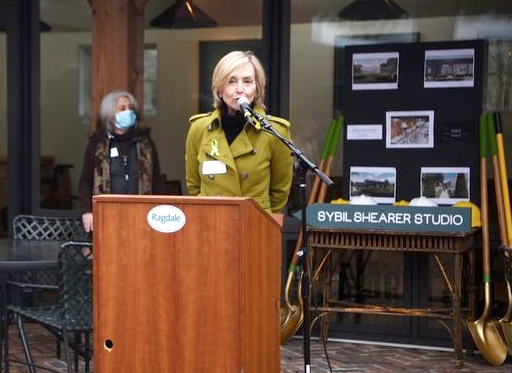 Ragdale Board Chair Barbra Schumann speaks during a gathering to celebrate the construction of the new Ragdale Building for Dance and Music, which will be home to the Sybil Shearer Studio, in Lake Forest. (
Joe Lewnard | Staff Photographer)
The building is being designed by Woodhouse Tinucci Architects; general contractor is Jake Goldberg of Goldberg General Contracting; landscaping design is by Rosborough Partners, Inc.
"Here, on our campus, alongside the prairie land, the themes of collaboration and nature will continue to unfold as we pay homage to Sybil and the Morrison-Shearer Foundation's core values as an authentic and devoted organization," said Ragdale Foundation Board President Barbra Schumann.
"Morrison-Shearer, thank you for allowing the creativity to flow through the power of dance. Exuberant creativity is what will continue to save us in good times and in bad," she said.
Ragdale residents are selected by a jury process from a large pool of applicants. Typically, the residency program enables nearly 200 dancers, writers, playwrights, musicians, poets, visual artists and architectural designers the time and space to focus on their projects. While residents pay a fee, about 95% of the actual costs of a residency are subsidized by Ragdale fundraising.
The studios are expected to be completed this fall when a grand opening of the Sybil Shearer Dance Studio at Ragdale will bring the premiere of a new documentary by award-winning filmmaker Bob Hercules about the work of Shearer, Helen Morrison, and the dance studios. Other opening events are anticipated.