In preparing to send our gift of Helen Balfour Morrison's portraits of GREAT AMERICANS to the Newberry Library, we found negatives from which we'd never seen prints. Among them was this photograph of CARRIE CHAPMAN CATT (1859-1947), who played an essential role in gaining the right of women to vote. Just now, as we celebrate the 100th anniversary of passing the 19th Amendment to the Constitution, it's serendipitous to discover this photograph!
Elizabeth Cady Stanton, Susan B. Anthony, and Lucretia Mott started the movement for women's vote in Seneca Falls NY in 1848, an effort that ebbed and flowed over the years until 1890, when several separate organizations finally merged as the National American Woman Suffrage Association (NAWSA). With Stanton and Anthony advancing in age, Catt, with her long history in suffrage efforts, was asked to step in as President in 1900. She left in 1904 to care for her dying husband and to start still more suffrage and peace organizations before returning to the presidency of NAWSA in 1915. There her extraordinary gifts as orator, organizer, and dynamic leader were central in the drive to final victory. This photograph of Catt was taken at the Palmer House in Chicago ca. 1933.
Morrison also photographed Jane Addams (1860-1935), of Hull House, and a dozen more notable women working at this time in social reform, juvenile justice, higher education, and supporting philanthropies.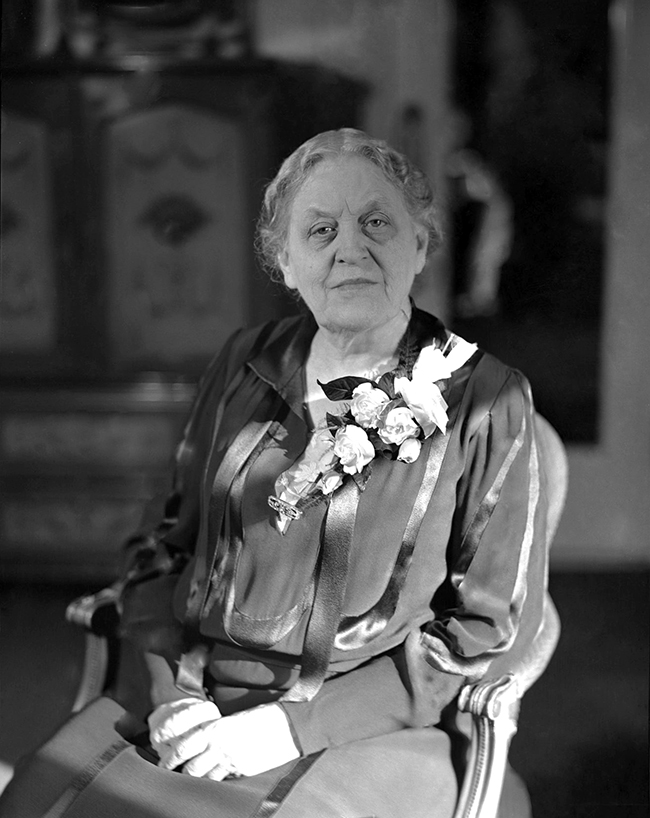 Photo: From the MSF Archives — Portraits from Helen Balfour Morrison's "Great Americans" Collection