More than once in its evolution, the Morrison-Shearer Foundation has been fortunate to have just the right person appear with the very talents we need at that moment. In November, 2011, we were nearing the end of our five-year Strategic Plan and needed to find a new Foundation Manager. We engaged Executive Service Corps to help us, and among their interviewees, we deemed one a perfect match. With her own company, Sustainable Leadership Solutions, and a superb history of work with non-profits, we knew we wanted her. But would she commute all the way from St.Charles to Northbrook? Not a problem. Distance would not deter CORINNE PIEROG from a job she expected to love!
And love it, she has. As Executive Director, she's been central to everything we do. She was all-in from the beginning —professionalizing internal processes, learning deeply about Sybil and Helen, familiarizing herself with the archives, managing our facilities, working with volunteers, providing Trustees with the tools and information we need, and more. And her outgoing and caring personality has created warm relationships for MSF within the dance and art communities.
As you can imagine, it is with mixed feelings that we announce Corinne's recent election as Kane County Board Chair — a big job worthy of her talents. We sincerely congratulate her, but we sure hate to see her go!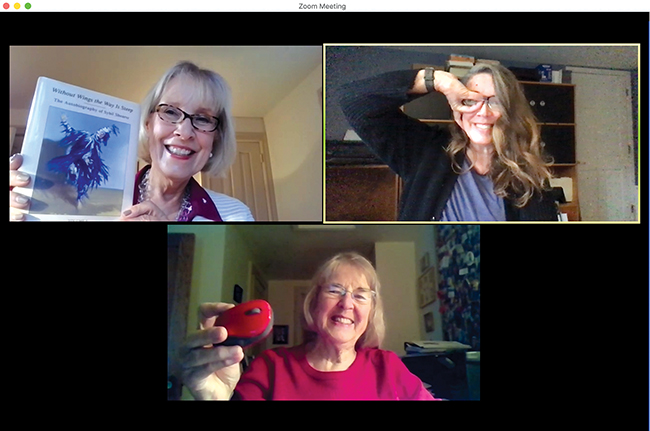 Corinne Pierog, Amy Jeppsen Stern, Carol Doty
Another example of our good fortune is AMY JEPPSEN STERN. In 2012 we were looking for a graphic designer when Trustee Alida Szabo suggested Amy, whom she had worked with at Chicago Shakespeare. We were surprised to learn that Amy lived just a stone's throw from the Foundation and was available on call. We soon "adopted" her as our resident designer — a person fun to work with and who seems to intuit our wishes for whatever design we need.
In 2013 we began producing "Sharing the Legacy," our annual pictorial newsletter, and Amy gradually amassed a large picture file to work from. Annual Holiday cards seem to come around fast, as do flyers for various events. Amy's most unusual creation may be the pair of large display banners that attract attention at special events. By far the most complex design challenge has been the new MSF webpage, soon to be launched. In it Amy has done a great job of organizing a huge amount of information written by staff into an attractive and welcoming site — a work in progress to be continuously refined and updated.
As the Foundation moves forward into new and exciting directions, you'll continue to see Amy's work, as she's become an essential and esteemed member of the MSF team.