MSF and THE NEWBERRY LIBRARY OF CHICAGO co-sponsored the well-attended "Preservation, Tradition, and Innovation from Sybil Shearer through the Present" on June 13. Moderated by Hedy Weiss, noted performing arts critic for Chicago and national media, the program featured three panelists with film highlights.
Panelists were Jan Bartoszek, founder and artistic director of Hedwig Dances; Melissa Thodos, of Thodos Dance Chicago, and Ella Rosewood, who lives and works in New York City. All have recreated Shearer dances — Hedwig in 2012 at the Winnetka Community House, and Thodos in 2013 at the University of Chicago and 2014 at the Auditorium Theatre.
Rosewood's "Seminal Solos" project includes re-creations of dances of historic dancers, her latest being "Eighth Dance," premiered by Sybil at Carnegie Hall in 1949, and performed by Ella at the 92nd Street Y in New York in 2018. Interestingly, some of Sybil's early New York concerts up to 1946 were held in that same Y.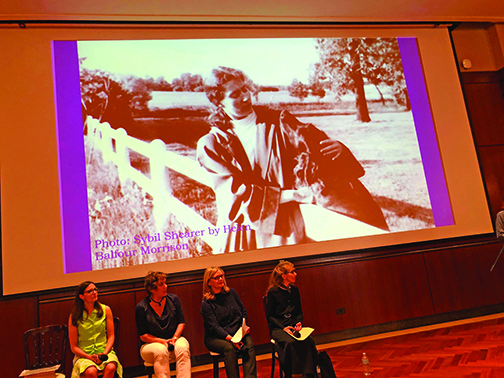 Photo: Ella Rosewood, Melissa Thodos, Jan Bartoszek, and Hedy Weiss.