Chicagoland's dance community has an important and enduring friend in dance maverick Sybil Shearer and the Morrison-Shearer Foundation.
The Foundation, established in 1991, perpetuates the legacy of dancer/choreographer Shearer and collaborator/photographer Helen Balfour Morrison as an inspiration for new creativity in the arts by providing grants, the Sybil Shearer Fellowship at Ragdale, which began in 2016 and occasional public programs and dance re-creations.
In July 2021, the Foundation released the third and final volume of Shearer's three-volume autobiography, "Without Wings the Way is Steep."
"What a third act!" says Margo Viscusi, President Emerita of Poets House, New York, and student of Shearer's. With all three volumes of the autobiography available, readers have the opportunity to view the full arc of a dancer's life and gain new insights into nearly a century of Chicago dance history. It is also an invitation to check out the Morrison and Shearer archives at the Newberry Library and the Chicago Film Archives.
Sybil Shearer (1912-2005) was a leading pioneer of modern dance in the mid-20th century, beginning in New York with the Humphrey-Weidman Company and Agnes de Mille while passionately developing her own solos on the side. After a critically acclaimed solo debut at the Carnegie Chamber Music Hall in 1941, she moved to Chicago, first teaching at Roosevelt College and starting the Sybil Shearer School of Dance. She soon met photographer Helen Balfour Morrison (1901-1984), who became her lighting director, photographer, filmographer and artistic collaborator for the next 40 years. In 1951, in collaboration with Morrison, Shearer built a studio-residence in Northbrook and started the Sybil Shearer Company. In 1970, critic Walter Terry stated that her "technical skill, creative independence and unpredictable innovations have made her what is known as 'a dancer's dancer.'"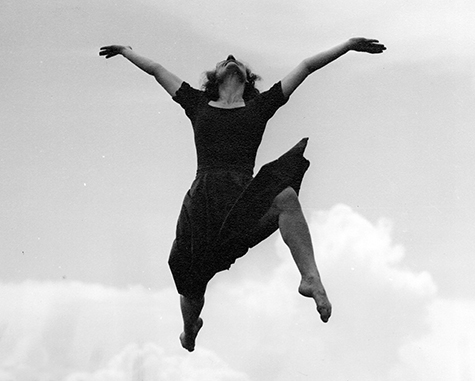 In the fall of 2020, the Foundation made a grant to Ragdale, the nationally acclaimed artist residency program in Lake Forest, for the construction of a new building including a Sybil Shearer Studio. Construction was quickly completed in time for a grand opening celebration on National Dance Day, September 18, 2021.
The original Morrison-Shearer Northbrook residence and studio was a quiet mecca for renowned artists, theater personalities, writers, critics, dancers and musicians, among them musician/artist John Cage and dancer Ruth St. Denis. In recognition of the 15th anniversary of Shearer's passing and following the completion of the new studio at Ragdale, the Foundation commissioned the creation of a short documentary film, A Space to Create, by Bob Hercules of Media Process Group, charting the life of Shearer's original Northbrook studio designed by Morrison in 1951 to the new studio on the Ragdale campus.